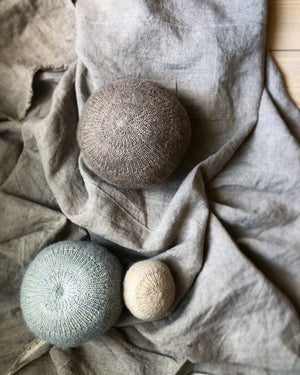 Mini Augustins no 2 (ENG)
Sale price Price 35,00 kr Regular price Unit price / per
Tax included.
Mini Augustins no. 2 is a part of our Waldorph inspired toys collection. It's a series of patterns which focus on tactility, form and imagination by approaching the elements holistically and with great care to detail.  
The toys are a conscious and lasting option of playware, and will not only stimulate your child's senses, but also bring them the opportunity to explore and benefit from the wonders of natural materials.  

We have paid great attention to the use of materials within this pattern, using plant dyed yarn and organic carted wool for stuffing. By using natural fibres and shades, your child's senses will be met and challenged on various levels of their tactile system. When your little child holds the ball, he / she will feel the soft pointy fibres, smell the comforting sent of wool, and note the warmth generated by the natural fibres. 
Playing is learning, and in our opinion, 
the toy should be a contributor hereto.
... And the best part of it - it can be made by you to a little one which you hold dear, bringing an additional layer of love and care into the toy. 

Size : 1 (2) 3.
Yarn : Alpaka, G-uld ( 160m per 50g).
Gauge : 27 sts = 10 cm in Stockinette Stitch.
Amount : 50g ( applies to all sizes).
Circumference : 23 (35) 47 cm.
Needle size : Circular needle 3 mm (40 cm) + double pointed needles 3 mm. 
Work : A ball i knitted in the round in Stockinette Stitch and i shaped by using in- and decreases.
Additional : Organic carted wool for stuffing.