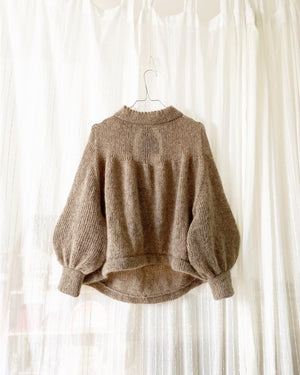 Augustins no 9 (ENG)
Sale price Price 50,00 kr Regular price Unit price / per
Tax included.
Augustins no. 9  is a modified adult's version of the old children's pattern Birkebluse, which also was designed by Augustins. Within this version, you may recognise the neckline hem with its bow, the wide shaping of the body and how the garment is knitted longer in the back. As new features, a picot edging has been added to the neckline and the sleeves have gotten a more puffy fit.
Size : a (b) c (d) e (f) g (h). 
Your bust circumference  : 80 (90) 100 (110) 120 (130) 140 (150) cm. 
Full length, measured CF below the neckline : 52 (54) 56 (58) 60 (62) 64 (66) cm.
Positive ease : This blouse has a wide positive ease, beginning from the middle of the yoke and downwards. The positive ease is at 20-30 cm, depending on your bust circumference - this is to secure the wide and airy fit, which is characteristic for the design. When you're deciding which size to knit, choose the size which corresponds to your own actual bust circumference.
Gauge : 16 sts x 22 rows = 10 x 10 cm in Stockinette Stitch, at needle size 6 mm.
Needle size : Circular needles 4,5 + 5 + 6 mm ( 40 / 60 / 80 cm).
Yarn : The blouse is knitted with 2 types of yarn held together.
1. thread: New Zealandsk Lammeuld, G-uld (450 m pr 100g).
2. thread: Soft Silk Mohair, Knitting For Olive (225 m pr 25g). 
Amount : 
1. thread: 150 (200) 250 (300) 350 (400) 450 (500)g. 
2. thread: 75 (100) 125 (150) 175 (200) 225 (250)g. 
Other : A broad ribbon for the neckline hem. At the pictured version, a 6 x 200 cm ribbon in chiffon has been used, but any ribbon you prefer will do. 
Work : When the neckline hem, shoulders and parts of the yoke are being shaped, the blouse is knitted top-down and back and forth in Stockinette Stitch. At the middle of the yoke, increases are made to give the blouse a wide fit. From that point onwards, the blouse is knitted in the round in Stockinette Stitch. At the bottom of the body, German Short Rows are made to make the blouse longer in the back. The sleeves have a puffy fit, and have a finishing folded hem, just as the body has.