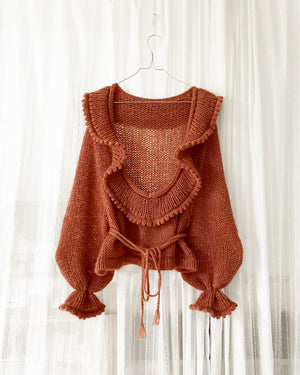 Augustins no 8 (ENG)
Sale price Price 50,00 kr Regular price Unit price / per
Tax included.
Augustins no. 8  is a blouse with a nostalgic shape and feel. Knitted top-down on large needles with a straight body and puffy sleeves, the design is simplistic in its construction. The aesthetics of the blouse is highly influenced by its low-cut back as well as the ribbing and picot edges of the collar and the sleeves.The garment has a folded edge at the bottom of the body and a finishing i-cord edge running along the neckline. To highlight the waist and sculpt the silhuet of the blouse, 2 braided ribbons is added in each side. 
Size : a (b) c (d) e (f). 
Your bust circumference: 80-85 (85-90) 90-95 (95-100) 100-110 (110-120) cm. 
Yarn : The blouse is knitted with 3 strands held together. Note that the Mohair is held double. 
1. thread: New Zealand Lambswool, G-uld (450 m pr 100g).
2. + 3. thread: Soft Silk Mohair, Knitting for Olive (225 m pr 25g).
Gauge : 10 sts x 14 rows = 10 cm in Stockinette Stitch.
Amount : Lambswool: 150 (150) 200 (200) 250 (250)g / Mohair: 150 (150) 200 (200) 250 (250)g. 
Length, measured CF below the neck : 50 (52) 54 (56) 58 (60) cm, or preferred length. 
Needle size : Circular needles, 8 + 10 mm ( 40 / 60 / 80 cm).
Other : Elastic band for the wrist. 
Method: First, the blouse is knitted back and forth in Stockinette Stitch, whilst increases for the shoulders and sleeves are made. Then, the work is gathered, creating the low-cut back, and from that point onwards it's knitted in the round. It has a folded bottom edge, whilst the collar and parts of the sleeves are knitted in ribbing with a finishing picot edge. At each side of the waist, a braided ribbon is attached.