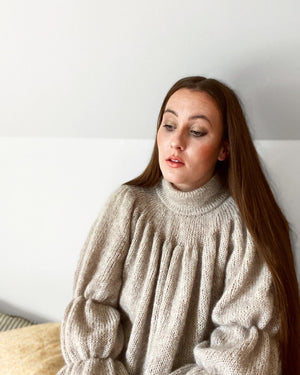 Augustins no 10 (ENG)
Sale price Price 50,00 kr Regular price Unit price / per
Tax included.
Augustins no. 10  is a sculptural and voluminous blouse, which is shaped to have a beautiful draped effect from the yoke and down. The construction of the blouse is simplistic, which makes it a great beginners project.
Size : a (b) c (d) e (f) g (h). 
Your bust circumference  : 80 (90) 100 (110) 120 (130) 140 (150) cm. 
Full length, measured CF below the neckline : 52 (54) 56 (58) 60 (62) 64 (66) cm.
Positive ease : This blouse has a wide positive ease, beginning from the upper part of the yoke and downwards. The positive ease is at 30-40 cm, depending on your bust circumference - this is to secure the wide and airy fit, which is characteristic for the design. When you're deciding which size to knit, choose the one which corresponds to your own actual bust circumference.
Gauge : 16 sts x 22 rows = 10 x 10 cm in Stockinette Stitch.
Needle size : Circular needles 4,5 + 5,5 + 6 mm ( 40 / 60 / 80 cm).
Yarn : The blouse is knitted with 2 types of yarn held together.
1. thread: New Zealandsk Lammeuld, G-uld (450 m pr 100g).
2. thread: Soft Silk Mohair, Knitting For Olive (225 m pr 25g). 
Amount : 
1. thread: 200 (200) 250 (300) 350 (400) 450 (500)g. 
2. thread: 100 (100) 125 (150) 175 (200) 225 (250)g. 
Other : 1-1,5 m of thin elastic band for the sleeves.
Work : The blouse is knitted in the round in Stockinette Stitch, from the top and downwards. First, the high folded neckline is knitted and hereafter the yoke is shaped by using the technique German Short Rows. To give the blouse its airy and draped effect, double increases are made at the upper part of the yoke, which will also secure that it becomes longer in the back. The remaining yoke, as well as body, is then worked in the round until reaching the bottom edge, where a finishing i-cord is knitted. The puffy sleeves are shaped by rounds of increasing and decreasing and are finished with an i-cord edge. Lastly, a thin elastic band is inserted from the WS into 2 rows on each sleeve to make them puffy.