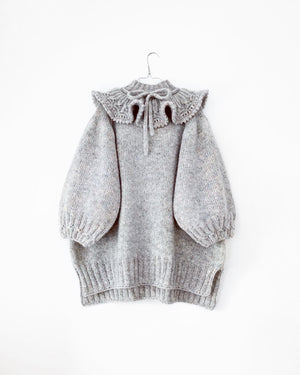 Augustins no 20 (ENG)
Sale price Price 50,00 kr Regular price Unit price / per
Tax included.
Augustins no. 20 is a wonderfully warm and hugging sweater, with draped sleeves and an oversized fit.
At its ribbing edges, the sweater has a series of laced detailings, which together with the elaborately laced collar, brings a nostalgic feel to the otherwise simplistic shape of the garment.

Size: a (b) c (d) e (f) g (h).
Your bust circumference: 80 (90) 100 (110) 120 (130) 140 (150) cm.
Full length, measured CF below the neckline: Approx. 70 (71) 72 (73) 74 (75) 76 (77) cm.
Positive ease: The sweater has a positive ease at approximately 10-20 cm, depending on your bust circumference. When you're deciding which size to knit, choose the one which corresponds to your own actual bust circumference

Gauge: 14 sts x 20 rows = 10 x 10 cm in Stockinette Stitch at needle size 6 mm.
Needle size: Circular needles 5 + 6 mm (40 / 60 / 80 cm).
Yarn: The sweater is knitted with 2 types of yarn held together.
1st thread: Svensk Ull (180 m pr 100g).
2nd thread: "Silk Mohair", Sabina Siestøe (420 m pr 50g).
Amount:
1st thread: 600 (600) 650 (700) 750 (800) 850 (850)g.
2nd thread: 125 (125) 150 (150) 175 (175) 200 (200g).
Other: Cable needle, 6 mm (alternatively, a doble pointed needle 6 mm can be used instead).
Worked: The sweater is knitted top-down in the round in Stockinette Stitch, with finishing broad ribbing edges. The yoke is formed by  Raglan increases, whilst the body obtains its A-shape by making a series of continuous increases at each side of the work. To make the sleeves puffy, a row of double increases is knitted at the upper part of the shoulders. The ribbing edges of the body and sleeves, each have their own little series of laced detailings. Lastly, when the whole sweater has been made, a laced collar and I-cord ribbons are knitted onto the yoke, just below the neckline.